The Art of Sales Management
In October I completed the project to release the full set of the Art of Sales Management in paperback.  All three books are now available for sale in both print editions and Kindle editions.
The first in the series 'The Art of Sales Management: Lessons Learned on the Fly' was released in February of 2013.  The book is designed to be both a philosophical and practical text on the subject. Sales Management refers to the managing of a team of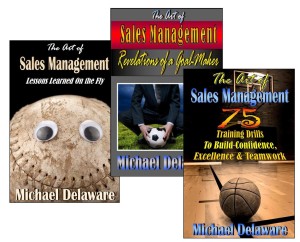 salespeople, and building them into a 'team' rather than having them merely function as a 'group'. Teams work together as a cohesive unit, and 'groups' tend to be a collection of individuals working independently, often going in different directions. This book seeks to engage the sales manager in the excitement of building any group of salespeople into a cohesive unit or team; brand new or long established.
'The Art of Sales Management: Revelations of a Goal Maker' I released in March 2013.  This book is about sales and sales management, and how it is driven by a goal maker. It is about the understanding of goals, and how to inspire others to achieve their individual goals, as well as the group goals that you set.  It includes valuable tools and experiences for sales managers to work with to plan out goals for a sales force and achieve success.
The third book 'The Art of Sales Management: 75 Training Drills to Build Confidence, Excellence & Teamwork' was released in June 2013. This book is a resource of tools for sales managers to utilize to develop teamwork within a sales force, and also bring about excellence. It takes on the various aspects of sales disciplines from a variety of different drilling methods to help develop skills. In this book you will discover drills to improve the understanding of the importance of communication between members of your team and interaction with the customers.