I recently released a new eBook called 'My Name is Blue: The Story of a Rescue Dog'.  It is a non-fiction book written from the puppies viewpoint on his rescue from a shelter.  The story of course is fiction to the degree that the dog is writing the story, but the events he describes did in fact happen.  It is a story about how a little dog finds his way out of a shelter and into a loving home.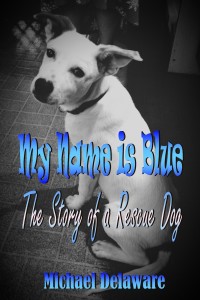 The book was inspired by my dog Blue who is the star in all the photos in the story.  My wife and I rescued Blue from a shelter in June of 2013 and he has brought so much happiness to our lives.  At the time when we adopted him we were semi-unaware of the plight of dogs in animal shelters.
Shelters across the country accept 6-8 million dogs each year. The inflow of animals is far greater than shelter space, and the shelter resources to find new homes. Shelters that euthanize dogs do so because they believe that warehousing the dogs is not in the best interest of the animals. Every animal deserves a decent quality of life, and living in prison cages over the long term does not support this principle.
This book was written to help raise awareness of the plight of dogs in shelters and encourage people to rescue dogs and give them a quality life.  Please take a moment to share this article with other people and help spread the word.  You can turn a shelter dog into a rescue dog by encouraging people to read this book and get inspired by the love a dog can bring into ones life.
You can also find out more information about helping dogs in shelters by visiting the website: www.dogsindanger.com