In June of this year I released a 3rd installment on my series of eBooks on the Art of Sales Management.  This was a series of books drawn mostly from my years as a sales manager when I ran my company called Artistic Glass of Atlanta, Inc. in Roswell, Georgia during the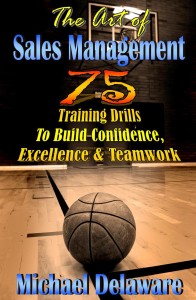 1990's and early 2000's.
I sold the company in 2001, but the ideas to write those books still we with me over the years.  I had many notes on the subject, and essays I had written.  At one point in January of this year I decided to embark on the project to codify them into an easy to read and use format.
The newest eBook in the series is called: 'The Art of Sales Management: 75 Training Drills to Build Confidence, Excellence & Teamwork'.  It expounds upon a series of training tools for managers to train sales people, from new to experienced.  It is a book that took a great deal of research, and is drawn from over three decades or more of experience in the field of sales management and sales training.
The first book in the series is entitled 'The Art of Sales Management: Lessons Learned on the Fly' and the second book in the series is 'The Art of Sales Management: Revelations of a Goal Maker'.  All three of these eBooks are available in Kindle format on Amazon.  There may be a release in the future of the first book in print at some point, but that has yet to be determined.