Rachida Finds Magic: A Girl's World Tale
This past month in addition to working on getting three of my own books into paperback I worked on a new project.  It was the new children's book by author Diane Stein entitled: Rachida Finds Magic: A Girl's World Tale.  The book was illustrated by my wife Margarita Jimenez.  I helped prepare this book for publication.  It was quite a wonderful project to be involved in.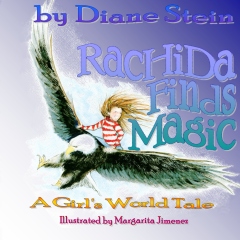 The story is about a young girl who goes in search of magic.  Rachida is determined to find magic, and embarks on a journey where she meets Goddesses and dolphins, houses standing on chicken feet, talking cats and wise coyotes, volcanoes and giant pearls. Rachida is looking for magic and will fly on eagle-back, ride a bubble boat under the sea, and walk around the world to search for it.
The Goddesses of several cultures help her in her quest. Russian Grandmother Baba Yaga, Hawaiian Pele, African mermaid Yemaya, and Native American Spider Woman show her their homes and teach Rachida about magic and how to find it. And the best surprise is at the end, which I will not spoil for you.  The story is a delightful adventure, and is released just in time for the holidays.
The book is fully illustrated and color.  It is priced at $12.95 and if you would like to order a copy, click here.