I just released my first children's eBook entitled 'Scary Elephant Meets the Closet Monster'.  It is my first fiction story I have released, and it was a project I worked on for about 5 months.  Not only did I write the story, I also illustrated the entire book as well, with over 20 original illustrations.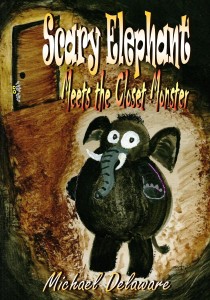 The story surrounds 'Solomon' who is a young elephant in a world that seems very scary to him.  His fear of shadows, sounds in the night and all sorts of unknown things keeps him frequently covered in goose bumps and trembling with chills run up and down his spine. He sleeps at night with his head under the covers, and his trunk sticking out so he can smell monsters coming.
His general fear of so many usual (and unusual) things makes him the subject of ridicule from other elephant children, and so he lives in his own world of active imagination.
Solomon's greatest fear is his own bedroom closet at nighttime. This story takes place one evening after a voice in his closet began whispering to him.
Join Solomon the 'Scary Elephant' as he embarks on a chilling adventure to find answers to the mystery voice in the darkness. Follow him step by step as he battles his terror through the unfolding events of the night.
You will laugh and cheer for him as he conquers his own fear of the unknown and makes discoveries he never expected about himself and the world around him.
Instead of his worst fears being realized, in the end he finds a friendship, which turns his world upside down.
You will smile at this heartwarming story as a little elephant learns his own imagination was running away with him, and how he discovers the magic of friendship. He also discovers that others are just afraid as he is, but sometimes just about different things.
A fun adventure for children (ages 9 and up) who are sometimes scared of mysterious noises at night, their own bedroom closet and the general unknowns of the darkness. 'Scary Elephant Meets the Closet Monster' makes for a great bedtime story to read aloud as well.
Written and illustrated by Michael Delaware.  This story is a must read for any children's eBook collection.