Blue & the Magical Forest
The Power of Hopes & Dreams
I am proud to announce the release of my new book!  "Blue & the Magical Forest: The Power of Hopes & Dreams" will be available on Amazon later this week, which you can find through my author page here.  If you would like to order a copy immediately, click here.   It will be available through Barnes & Noble and other online print retailers later this month.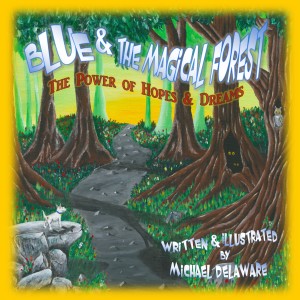 What is Blue & the Magical Forest about? It is the story of a little dog who finds himself in an animal shelter, and he does not really understand what is going on. His mother is taken away, and he sister is later adopted.  Finding himself alone he is overcome with sadness, and falls asleep one night only to wake up in a magical forest.  From there, the adventure begins as he encounters other creatures in the forest who guide him on a special journey.
If you want to know what happens, of course you will have to read the story!
This book took over eight months to produce as it includes not only my own original story, but also my own original art work which began as acrylic paintings on canvas in my studio in October 2014.  The main character is based on my own dog named Blue, whom I rescued from an animal shelter in 2012.  He has been a wonderful part of my life, and my relationship with him has inspired me to support the cause of animal rescue.
I have directed a portion of the profits will always go to animal rescue organizations and no-kill animal shelters.  Earlier this year, I released the book 'Roamer: A Lost to Found Rescue Dog Story' and a portion of the profits from that book have gone to support the Best Friends Animal Sanctuary in Kanab, Utah.  If you have not heard of this organization, I implore you to visit their website at: Bestfriends.org.  Their work is truly amazing and beautiful.
The 8 month journey of Blue & the Magical Forest
The story of Blue & the Magical Forest was created with many hundreds of hours of love and devotion from my team at If, And or But Publishing.  My primary editor on the project was Amanda Skinner.  Without her long hours of tedious attention on this project, and endless encouragement, this book would not have been possible.  Blue himself also lent a paw, and so with any book signing events I plan to include him to add his 'pawtograph' whenever possible.  I hope you get a copy and read it.  It is was written and edited to be a bedtime story for children, but it also is a fun read for adults.